| | |
| --- | --- |
| | Three-level house with 3 bedrooms/3 baths/Formals/ Den/Play Room/Study (or 4th Bedroom)/Attic Loft (or 5th Bedroom). 3450 sqft. |
3512 Amherst, University Park - 1946 house between Preston and Hillcrest, renovated inside out. Super convenient location, walk to everywhere (school, pool, park, grocery, shops).
Hardwood flooring both floors, kitchen with Viking, granite. Large master suite with sitting area. Travertine baths. Spacious backyard with 2006 garage. Large specimen tree. Sold
| | |
| --- | --- |
| | 3 bedrooms/3 baths/formals/den. 2277 sqft plus 400sqft unfinished quest quarters. 62.5x140ft lot. |
4329 Grassmere, University Park - 1940 Colonial newly renovated. On pretty block with lots of kids. Walk to HP stadium, restaurants, shops, movie theater.
Old house charm updated for modern living with kitchen open to den, new upstairs gameroom, large master closet, new baths, kitchen with Viking, granite. Elegant anti-McMansion house. Sold
| | |
| --- | --- |
| | 4 bedrooms/3.5 baths/3 living areas/study/formal dining/breakfast/gameroom. 3151 sqft. 60x142ft lot with spacious backyard. |
2938 Lovers Lane, University Park - Thoughtful new construction in University Park. Large house designed to fit in with the older neighbors. Not your typical infill McMansion. Sold
Main house with 3 bedrooms/3 baths/Formals/

Breakfast/Den/Play Room/Study. 3536 sqft. Third floor with additional 400 sqft pre-framed for future finish out.

Guest House with full bath and 1 bedroom. 272 sqft. Second floor with additional 660 sqft pre-framed for future finish out.
609 Courageous, Rockwall - Weekend lakehouse or primary residence. A postmodern for the architecture buffs. Updated and restored to its modernist roots. Sweeping lake views. Walk to Yacht Club, boat slip. Sold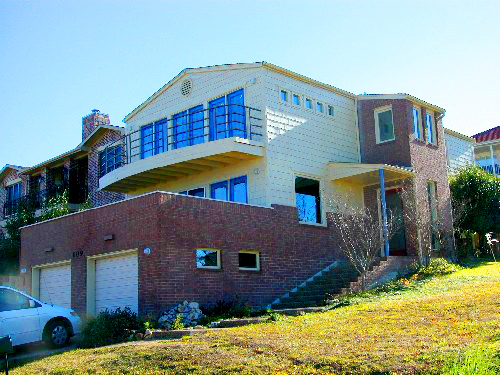 House plans for sale...
Plan #1 Beach House. Only 36' wide for those extra narrow lots. Three-level house. Clean-lined good looks. At home on the water or on an infill lot. Stucco exterior, Metal Roof.
4 Bedroom/3 Baths/2 Living Areas/Dining/Breakfast

2,788 sqft + 436 sqft third floor for future expansion
Plan #2 Shingle Style Cottage New England romance updated for modern living. Old house charm for an infill location. Good on the water too. Small foot-print for more rear yard. Efficient yet comfortable for family living.
3 Bedrooms/3 Baths/2 Living Areas/Study

2,557 sqft
Plan #3 Farm House Revisited Designed as a weekend home. Cost-effective design. Garage has rear doors for easy boat storage (you can pull a boat through, don't have to back in). With the 4 garage doors rolled up, it's a large porch for entertaining/kids play. Hardiplank (fiber-cement) clapboards, Metal roof. Good form to look good by the water or in a meadow.
3 Bedrooms/3 Baths/2 Living Areas/Balcony

2,358 sqft
Plan #4 Courtyard House Stucco postmodern on the water. Wraps around a courtyard. Great indoor-outdoor house. Guest quarters over the garage. Garage has doors front and back for easy boat storage or to double as a large porch. Fits well on a small pie-shaped lot.
3 Bedrooms/ 3Baths/Dining/2LAs/Guest quarters w/ full bath

2,358 sqft
Plan #5 Southern Lakeside Painted-bricks colonial on the water. Gracious lines, southern style porches/balconies, looks good front and back. Open floor plan w/ high ceilings. Good for entertaining. Downstair master suite.
4 Bedrooms/4 Baths/Formals/Den/Play Room/Study(or 5th bedroom)

3158sqft
Plan #6 Courtyard House II Compact waterfront stucco with courtyard entry. Downstair master suite. Balconies front and back.
4 Bedroom/3 Baths/3 Living Areas/Study

2,566 sqft
Plan #7 Courtyard House III Infill house styled after Florida's Rosemary Beach. Painted bricks ground level, cedar shingles upper. A courtyard house with rear-entry garage designed for an extra small infill lot (50x98). Moroccan fountain in courtyard. Expansive modernish interior with two-story ceilings and windows.
3 Bedroom/3 Baths/Great Room/Play Room/Study

2934 sqft
Custom designs...